Myocyte membrane and microdomain modifications in diabetes: determinants of ischemic tolerance and cardioprotection
Cardiovascular Diabetology
2017
16:155
Received: 8 September 2017
Accepted: 22 November 2017
Published: 4 December 2017
Abstract
Cardiovascular disease, predominantly ischemic heart disease (IHD), is the leading cause of death in diabetes mellitus (DM). In addition to eliciting cardiomyopathy, DM induces a 'wicked triumvirate': (i) increasing the risk and incidence of IHD and myocardial ischemia; (ii) decreasing myocardial tolerance to ischemia–reperfusion (I–R) injury; and (iii) inhibiting or eliminating responses to cardioprotective stimuli. Changes in ischemic tolerance and cardioprotective signaling may contribute to substantially higher mortality and morbidity following ischemic insult in DM patients. Among the diverse mechanisms implicated in diabetic impairment of ischemic tolerance and cardioprotection, changes in sarcolemmal makeup may play an overarching role and are considered in detail in the current review. Observations predominantly in animal models reveal DM-dependent changes in membrane lipid composition (cholesterol and triglyceride accumulation, fatty acid saturation vs. reduced desaturation, phospholipid remodeling) that contribute to modulation of caveolar domains, gap junctions and T-tubules. These modifications influence sarcolemmal biophysical properties, receptor and phospholipid signaling, ion channel and transporter functions, contributing to contractile and electrophysiological dysfunction, cardiomyopathy, ischemic intolerance and suppression of protective signaling. A better understanding of these sarcolemmal abnormalities in types I and II DM (T1DM, T2DM) can inform approaches to limiting cardiomyopathy, associated IHD and their consequences. Key knowledge gaps include details of sarcolemmal changes in models of T2DM, temporal patterns of lipid, microdomain and T-tubule changes during disease development, and the precise impacts of these diverse sarcolemmal modifications. Importantly, exercise, dietary, pharmacological and gene approaches have potential for improving sarcolemmal makeup, and thus myocyte function and stress-resistance in this ubiquitous metabolic disorder.
Keywords
CaveolaeCardioprotectionCholesterolDiabetesFatty acidsGlucose transportInfarctionPhospholipids
Diabetes impacts myocardial ischemic tolerance and cardioprotection
Clinical evidence indicates DM sensitizes human hearts to I–R injury [1, 2], which is generally consistent with experimental findings in animal models, though conflicting observations arise. Compounding the problem of infarct intolerance, DM may also render hearts broadly refractory to established cardioprotective stimuli that include ischemic pre- and post-conditioning (direct or remote) and protective G protein-coupled receptor (GPCR) agonism, together with the anti-infarct effects of ATP-gated K+ channel (KATP) openers, anesthetics, phosphodiesterase-5 (PDE-5) inhibition and heat shock activation [3–6]. Thus, while elusive cardioprotective therapies [6–8] are of particular value in the high-risk DM population, implementation appears an even greater challenge in this cohort. Prevalence of DM and insulin-resistance in those suffering IHD may in turn contribute to poor translation of experimental cardioprotection in these patients. Relatively few studies specifically address the conundrum of I–R sensitivity and cardioprotective insensitivity in DM [6]. Investigations to date implicate a diversity of mechanisms extending beyond fundamental alterations in glucose and lipid metabolism, including associated glycation/glycosylation [9], oxidative stress [10, 11], abnormal survival kinase signaling [12–14] and exosome dysfunction [15], excessive ubiquitin–proteasome system activity [16], suppression of sirtuin-1 expression [17], and changes in miRNA expression [18], among others. Considerable attention has focused on mitochondrial dysfunction, including shifts in quality control mechanisms (mitophagy, fission/fusion), as a point of convergence in the complex pathogenesis of diabetic cardiomyopathy [10, 19, 20]. However, the sarcolemma is also a critical though under-appreciated nexus, influencing DM progression and its impacts [21]. Indeed, transcriptomic profiling indicates that the largest group of diabetes-modified cardiac genes encode membrane/plasma membrane components [22], consistent with more recent studies identifying DM-dependent changes in transcripts for membrane and structural proteins, sarcolemmal receptors and ion channels [23]. Transporters for glucose and fatty acids, ion channels and exchangers, and receptor systems governing insulin responses, inflammation, mitochondrial quality control, and cell stress, growth and death are all located within the sarcolemma, while mitochondrial function is also sensitive to sarcolemmal domains and proteins. Perturbations in membrane composition and architecture may thus be critical to the dysfunctional stress responses characteristic of diabetic myocardium, together with other cardiac outcomes including hypertrophy and contractile dysfunction. We herein review the clinical and experimental evidence of DM-dependent changes in myocardial ischemic tolerance and cardioprotection, before focusing specifically on sarcolemmal changes and their contribution to the cardiac sequelae of DM.
Effects of DM in human myocardium
Diabetes induces a spectrum of abnormalities within the myocardium and coronary vasculature. Diastolic dysfunction, fibrosis and hypertrophy functionally and structurally underpin diabetic cardiomyopathy [10]. These changes are linked to reactive oxygen species (ROS) generation, inflammation, mitochondrial dysfunction, and abnormalities in molecular quality control, including autophagy, fission/fusion, endoplasmic reticulum (ER) stress and unfolded protein responses. Coronary endothelial dysfunction and vascular remodeling exaggerate atherosclerosis and impair vascular control and coronary perfusion, potentially contributing to cardiac dysfunction. These changes in myocardial and coronary phenotypes (and underlying molecular mechanisms) may participate in impairment of myocardial stress tolerance, hormesis and protective signaling, which may in turn further exacerbate these phenotypic changes.
Myocardial ischemic tolerance
The impacts of DM on myocardial ischemic tolerance and infarction remain somewhat contentious. Certainly DM worsens long-term outcomes from ischemic insult, including increased incidence of heart failure and all-cause mortality [24–26]. There is some evidence these poor outcomes may involve diabetic impairment of myocardial reperfusion [27, 28], consistent with vascular dysfunction and reduced coronary reserve [29–31]. The contribution of worsened infarction to poor post-ischemic prognosis awaits further clarification, with some contrasting data acquired. Diabetes can significantly increase infarct size as assessed via scintigraphy [1, 32] and magnetic resonance imaging (MRI) [33]. Insulin-treated DM patients also exhibit worsened myocardial infarction, mortality, major adverse cardiac events and thrombosis compared with untreated or non-DM subjects, potentially reflecting negative impacts of more complex and prolonged disease [34–36]. On the other hand, some myocardial scintigraphic [37] and MRI analyses [38, 39] report no significant differences in infarction in DM vs. non-DM STEMI patients post angioplasty.
Other evidence strongly supports exaggerated myocardial damage and cell death in DM patients: DM markedly increases morbidity and mortality (up to 90%) following cardioplegic arrest [40–42]; DM promotes pro-apoptotic signaling, apoptosis and contractile dysfunction in reperfused human myocardium [43–45]; and DM exaggerates oxidative damage and anti-oxidant depletion [45, 46], transcriptional changes and pro-inflammatory signaling [45, 47]. Analysis of I–R injury in ex vivo tissue reveals significantly impaired resistance of myocardium from T1 and T2DM patients, including increased apoptosis (partially caspase- and PARP-dependent) and oncosis [48]. Anderson et al. [49] more recently provided evidence that myocardium from DM patients has a greater propensity for mitochondria-dependent cell death. There is also evidence of exaggeration of post-ischemic contractile dysfunction in DM: the studies of Hoogslag et al. [50] and Dimitriu-Leen et al. [51] reveal worsened myocardial longitudinal strain independently of infarct size, supporting greater mechanical disruption in DM. Hyperglycemia itself has been shown to increase infarct size and mortality in infarct patients [1, 28, 52–54]. This may also involve impaired reperfusion, though there is evidence hyperglycemia exaggerates infarction by increasing the area at risk [55]. Use of insulin and sulfonylureas to manage hyperglycemia may additionally worsen ischemic injury, morbidity and mortality [34–36, 56, 57].
Conversely, there is some limited evidence myocyte ischemic tolerance might be increased in T1DM patients, though for skeletal and not cardiac tissue [58]. This is consistent with some rodent studies in acute T1DM models (see below). Nonetheless, the weight of experimental evidence supports reduced myocardial I–R tolerance in DM, encompassing exaggerated apoptosis, oncosis and infarction, contractile dysfunction and markers of oxidative damage. It remains unclear to what extent poor post-ischemic prognosis reflects exaggerated ischemic insult, impaired reperfusion, and increased propensity to cell death. The roles of individual metabolic disturbances (hyperglycemia, hyperinsulinemia, insulin-resistance, dyslipidemia), coronary dysfunction and compromised reflow, together with intrinsic myocardial stress-resistance, thus require further detailed analysis.
Cardioprotection
Studies broadly support the desensitization or elimination of diverse cardioprotective responses in DM myocardium, though again this is not universal. There are relatively few studies of diabetic impacts on cardioprotective responses in human myocardium. Ishihara et al. [59] reported that DM inhibits ischemic preconditioning in anterior wall infarct patients, while Lee et al. [4] present evidence of impaired preconditioning responses in DM patients undergoing angioplasty. Galiñanes and colleagues found that ex vivo myocardium from DM patients was insensitive to ischemic preconditioning [3], and subsequently identified loss of responsiveness not only to preconditioning but to phenylephrine, adenosine and diazoxide (implicating signal dysfunction proximal to protein kinase C (PKC) and p38 mitogen-activated protein kinase (MAPK) [5]. More recent studies support desensitization of DM myocardium to hypoxic preconditioning in association with impaired phosphatidylinositol 3 kinase (PI3K) and Akt signaling [60], and failure of ischemic preconditioning in myocardium from DM patients [61]. On the other hand, some studies confirm protective efficacies of anesthetic post-conditioning in ex vivo myocardium [62, 63] and of ischemic preconditioning in vivo [64] in DM patients. Additionally, a meta-analysis assessing influences of risk factor across ten trials of post-conditioning in STEMI [65] verified significant interactions with age and sex (reduced efficacy in older and/or female patients) yet not with DM. The authors concede analytical limitations may lead to an under-estimation of the influences of co-morbidities such as DM. A subsequent focused albeit smaller analysis also failed to identify interaction between DM and post-conditioning in STEMI patients [66], though also failed to detect the sex and age effects revealed by Zhou et al., highlighting limited power to detect effects in small sample sizes via posteriori statistical analysis.
Complicating effects of anti-hyperglycemia therapies
In addition to the underlying DM cardio-pathology, there is evidence clinical approaches to managing hyperglycemia may impair cardioprotective signaling and worsen ischemic outcomes. Sulfonylurea use is associated with greater ischemic injury and infarction in DM [56, 57], and inhibition of ischemic preconditioning in both non-DM and DM patients [67, 68] and ex vivo myocardium from DM patients [69]. Glinide also impairs preconditioning in DM patients [70, 71]. These negative impacts are consistent with their ability to inhibit KATP channels implicated in transducing or mediating cardiac protection [72].
In addition, insulin treatment has been linked to a paradoxic worsening of complications, all-cause mortality and cardiac outcomes in DM [34, 35]. Concern regarding potentially untoward effects of glycemic control arose from epidemiological evidence of increased mortality in insulin-treated vs. untreated T2DM patients [73, 74], together with observations of insulin effects on cardiac events [75, 76] and mortality in heart failure complicated by T2DM [77]. Evidence of worsened outcomes with insulin and sulfonylureas over metformin [34] suggests direct insulin- and KATP channel dependent actions rather than simple glucose-lowering. However, whether involving direct effects of insulin, influences of acutely reduced glucose (or overt hypoglycemia) following chronic hyperglycemia, or the fact insulin-treated patients often exhibit greater comorbidities and suffer more protracted disease, awaits further clarification. There are potential mechanisms by which insulin might worsen cardiovascular outcomes despite normalization of glucose. For example, insulin can induce weight gain which can exaggerate cardiovascular (and also cancer) risks, while atherogenic and mitogenic effects may accelerate atherosclerosis/IHD. Moreover, there is evidence insulin treatment up-regulates pro-inflammatory tumor necrosis factor α and interleukin-1 to a greater extent in T1DM vs. healthy animals [78], and insulin-dependent NO generation may promote oxidative stress [79], together with vascular damage through increased circulatory pulsatility [80]. Hypoglycemia as a result of poor glycemic control may also increase arrhythmogenesis, cardiac events and mortality [81], though whether this reflects a causal relationship is unclear, with other studies reporting no association between hypoglycemia and cardiac or all-cause mortality in T2DM [82]. Conversely, there is evidence hyperglycemia can promote compensatory mechanisms that protect against I–R injury, including improvements in anti- vs. pro-oxidant balance and protein integrity [83], which might be countered by reductions in glucose levels. The hearts of diabetic patients do appear desensitized to the injurious effects of elevated glucose [38]. However, further work is needed in disentangling these complexities.
Effects of DM in animal and in vitro models
There are some conflicting reports regarding impacts of DM on myocardial infarction and cardioprotection in animal models. Reviewed previously [2, 84, 85], studies in different species and models report increases, no change, or reductions in infarct size with DM. Similarly, despite a substantial body of evidence supporting impaired protection via pre- or post-conditioning and GPCR agonists, some report preserved responses to similar stimuli [86, 87]. Reasons for these discrepancies are debated, though disease progression and the presence of dyslipidemia appear to be important. While infarct enlargement is observed across species and models of T1DM and T2DM [2], infarct reduction is predominantly identified in rodent models of acute streptozotocin (STZ) dependent hyperglycemia [2, 86, 88–90]. This may reflect distinct impacts of acute (0–6 week) vs. established or chronic disease. While some also report apparent cardioprotection in models of T2DM [91], this may similarly reflect distinct changes on early transition to T2DM vs. established disease [12, 92]. Presence or absence of dyslipidemia may also be important, with some evidence hypercholesterolemia has opposing effects on infarct tolerance compared with hyperglycemia alone [93]. Mechanisms implicated in differing ischemic tolerance in acute vs. chronic DM include shifts in PI3K/Akt [12, 94, 95] and extracellular signal-regulated kinase 1/2 (ERK1/2) signaling [90], mitochondrial glucose oxidation and malate-aspartate shuttle function [92], and capillary density, vascular endothelial growth factor (VEGF) expression and endothelial nitric oxide synthase (eNOS) signaling [94]. Clinically, the negative impacts of chronic disease are most relevant regarding infarction and cardioprotection, with acute effects relevant only during transition to disease and potentially on cessation of therapy. Almost universally, observations support worsened myocardial ischemic tolerance in models of chronic T1DM or T2DM, with the weight of evidence supporting associated failure in diverse cardioprotective responses.
Summary
While somewhat contentious, studies of human and animal myocardium generally support detrimental effects of both T1 and T2DM on myocardial ischemic tolerance and cardioprotection (Table
1
). Mechanistic interrogation supports a complex pathogenesis, including signaling dysfunction (e.g. impaired PI3K/Akt signaling) [
5
,
12
–
14
,
60
,
90
,
94
], and abnormalities in mitochondrial function and quality control [
10
,
19
,
20
], ubiquitin–proteasome system activity [
16
], oxidant/anti-oxidant systems [
10
,
11
], and gene and miRNA expression [
18
]. Influencing many of these potential effector mechanisms, the sarcolemma plays an overarching role in governing ischemic tolerance and cardioprotection. Cardiac sarcolemmal changes arise in DM (see Table
2
), reflecting altered lipid metabolism and incorporation, modification of resident lipids and proteins, and significant structural and functional remodeling of caveolae [
158
,
159
], T-tubules [
160
,
161
] and gap junctions [
162
]. Detailed further below, such changes modify the fundamental biophysical properties of the membrane, glucose and fatty acid utilization, ion channel function, propensity to membrane disruption, and signaling via the insulin receptor (InsR) and receptors governing cardiac stress, growth and death responses.
Table 1
Changes in myocardial ischemic tolerance and cardioprotection in animal models of DM
Species—model

Duration or age

Ischemic tolerance

Effect on cardioprotection

Ref.

Type 1 DM

Mouse—STZ

1 week

⇓

⇓ RPostC

[109]

2 week

⇔

⇓ IPostC

[134]

4–5 week

⇔

⇓ IPostC, ⇓ ACE inhibition

[108]

Rat—STZ

1 week

⇑

⇓ HOPreC

[113]

2 week

⇑

⇔ IPreC

[116]

2 week

⇔

⇓ Opioid

[107]

2 week

⇔

⇓ Opioid

[112]

2 week

⇔

⇓ Opioid

[298]

2 week

⇓

⇓ Sevoflurane

[106]

4 week

⇔

⇓ Erythropoietin

[13]

4 week

⇓

⇓ APN, ⇓ IPostC

[135]

4–5 week

⇓

⇓ IPostC, ⇓ Sevoflurane

[104]

6 week

⇓

⇓ IPreC

[133]

6 week

⇔

⇓ IPreC

[110]

8 week

⇓

⇓ IPostC

[99]

8 week

⇓

⇓ APN, ⇓ IPostC

[135]

8 week

⇓

⇓ IPreC

[116]

8 week

⇓

⇓ Adenosine

[90]

9 week

⇔

⇓ Sevoflurane

[111]

12 week

⇓

⇓ IPostC

[121]

Unreported

⇔

⇓ Opioid

[103]

Dog—alloxan/STZ

3 week

⇔

⇓ Isoflurane

[101]

3 week

⇔

⇓ IPreC

[130]

Rabbit—alloxan

5–6 week

⇔

⇓ LPreC

[102]

TYPE 2 DM

Mouse—HFD

8 week

⇓

⇓APN

[151]

12 week

⇓

⇓β3-AR

[146]

Mouse—ob/ob

8–10 week old

⇓

⇓IPreC

[142]

Mouse—db/db

10–12 week old

⇓

⇓IPostC

[145]

12–14 week old

⇔

⇓IPostC

[134]

Unreported

⇔

⇔Infra-red light

[126]

12 week old

Not tested

⇔H2S PreC

[155]

Rat—STZ/HFD

6 week

⇔

⇔S1P

[87]

Rat—HFD

4 week

⇔

⇔Erythropoietin

[13]

8 week

⇑

⇓Sevoflurane

[496]

Rat—ZDF

12 week old

⇔

⇔Glutamate

[154]

16 week old

⇑

⇓IPreC

[91]

Rat—ZO

10–12 week old

⇓

⇓IPreC, ⇓Diazoxide, ⇓HePreC

[141]

Rat—GK

12 week old

⇔

⇓PPAR

[150]

Rat—OLETF

25–30 week old

⇓

⇓Erythropoietin

[132]

Rat—mtFHH

12–14 week old

⇔

⇓Isoflurane

[149]
Table 2
Cardiac sarcolemmal composition changes in models of T1DM
Sample

Chol

FFA

TRI

Phospholipid

Saturated FAs

Unsaturated FAs

Ref.

Heart

⇑

⇔ ∑PL

[191]

Ventricle

⇑

⇑

[192]

Ventricle

⇑ LPC

⇓ PE, CL

⇔ PI, PS

[196]

Heart

⇓ 20:4, 22:4, 22:5

⇑ 18:2, 20:3, 20:5

[197]

Heart

⇑

⇔ PC

⇔ PE

(PC) ⇓16:0 ⇑18:0

(PC) ⇓ 20:4, ⇑ 18:2

(PE) ⇓ 20:4

[193]

Heart

(PE) ⇓ 18:0

(PC) ⇓ 16:0

⇓ 22:4 (PE)

[201]

Heart

⇔ CGP

⇔ EGP

(CGP) ⇓ 16:0

(CGP) ⇓ 20:4, ⇑ 18:2

(EGP) ⇑ 18:2

[200]

Ventricle

⇑ EGP

(CGP, EGP) ⇓ 16:0

(EGP) ⇓ 18:0

(CGP, EGP)

⇓ 22:6, 20:4

⇑ 18:2

[360]

Heart

⇑ EGP, PME, PI

(EGP) ⇑ 18:0, 16:0

(TRI, NEFA) ⇑ 16:0

(EGP) ⇑ 18:2

(TRI) ⇑ 18:1, ⇓ 18:2

[202]

Sarcol-emma

⇑

⇑ ∑PL, CGP, EGP, SGP

⇓ SM

(PC) ⇑ 16:0

(PMC) ⇑ 18:0

(PE) ⇓ 16:0

(PME) ⇓ 18:0, ⇑ 16:0

(PS) ⇑ 16:0, ⇓ 18:0

(PC) ⇓ 20:4, ⇑ 18:2, 18:3

(PMC) ⇑ 18:2, ⇓ 20:4

(PE) ⇓ 20:4

(PME) ⇑ 18:2, ⇓ 20:4

(PS) ⇓ 22:6, 20:4, ⇑ C18:1

[199]

Heart

⇑

⇑

⇑

⇑ ∑PL

[194]

Heart

⇑

⇑

⇑

⇑ PE, SM, LPL

⇓ PC, PI + PS

⇑ ∑Sat FA

⇓ ∑Unsat FA, ⇓ ∑n − 3, ⇓ ∑n − 6

[195]
Sarcolemmal changes in DM
Though research has largely focused on intracellular and metabolic determinants of cardiac stress responses in DM, the sarcolemma plays a key role in governing these and other changes and warrants further research attention [21]. The sarcolemma represents the myocytes structural bounds, and is the primary environmental and inter-cellular interface; a scaffold for ion channel, receptor, transport and mechano-transduction complexes, and medium for detection of intra- and extra-cellular stressors. It is thus intimately involved in receptor signaling, ion homeostasis, substrate delivery, inflammatory and immune function, and detection and transduction of physico-chemical changes. As the site of glucose and fatty acid uptake and InsR signaling, the sarcolemma and its microdomains are a fundamental substrate for the metabolic dysregulation in DM. Molecular modification and disruption of the sarcolemma can thus contribute to multiple aspects of myocardial dysfunction and pathology in DM.
Structurally the sarcolemma is a dynamic fluid bilayer of phospholipids, comprising complex assemblies of proteins, cholesterol and other lipids (Fig.
1
a). Within this lipid sea float organized clusters of sphingolipids and cholesterol that form distinct microdomains known as lipid rafts. An important sub-set of these rafts, the caveolae are small invaginations (50–100 nm in diameter) that appear particularly relevant in DM and its cardiac sequelae [
158
,
159
,
163
]. Among other functions these 'little caves' serve as structural and regulatory platforms for receptor, ion channel and transporter proteins [
164
–
166
]; participate in mechanotransduction, protection against disruption and regulation of membrane repair [
167
]; and govern cardioprotective signaling [
168
–
170
]. Lipid rafts can also serve as redox signaling platforms that recruit and assemble nicotinamide adenine dinucleotide (NADPH) oxidase subunits and related proteins [
171
,
172
]. The functional properties of the sarcolemma and its microdomains are governed by molecular composition, which is sensitive to diet, physical activity, genetic makeup and disease, and is significantly disturbed in DM (Fig.
1
b, Table
2
).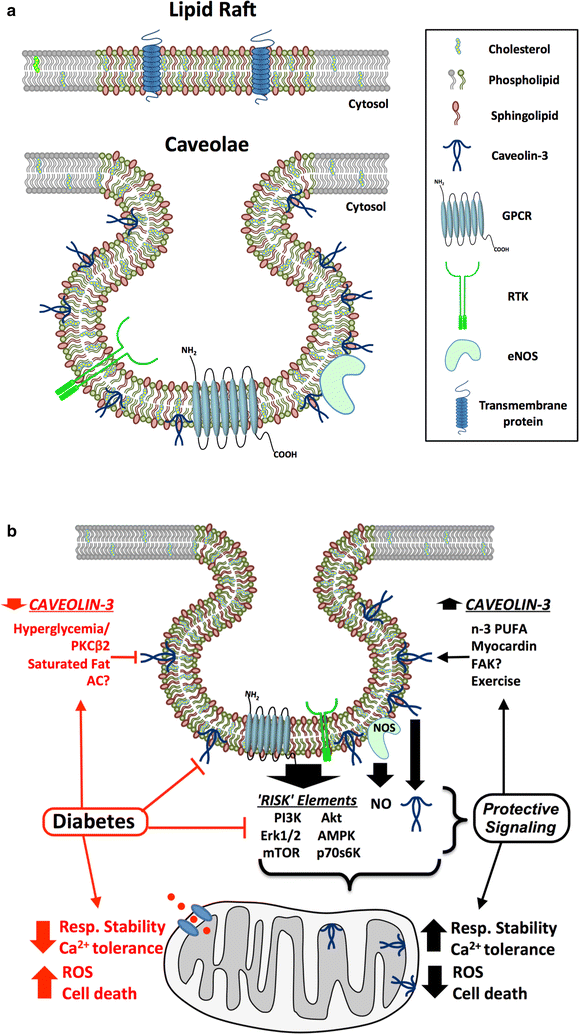 Potential 'membrane-targeted' therapies?
Based on the array of detrimental sarcolemmal changes evident in DM, a number of therapeutic approaches present themselves, including modifications to diet and physical activity, cholesterol manipulation, and modulation of caveolins and caveolar biology.
Conclusions and perspectives
A diversity of mechanisms are involved in the cardiac and coronary abnormalities arising in DM, and evolution of DM cardiomyopathy. However, the sarcolemma is a nexus for many fundamental mechanistic elements and sequelae of DM. The ability of the sarcolemma to withstand rupture is fundamentally important to cell survival and stress tolerance and is governed by molecular makeup and caveolar membrane 'reserve'. The sarcolemma is also the seat of glucose and fatty acid transport and InsR control, and therefore fundamentally participates in the pathogenesis of DM complications. Furthermore, the functionality of ion channels and cell surface receptors is determined by membrane makeup. Diabetes impacts sarcolemmal architecture, remodeling T-tubules, caveolar domains and gap junctions, disrupting E–C coupling and promoting injury and arrhythmogenesis in I–R. Specific molecular changes include increased cholesterol and fatty acid saturation vs. reduced desaturation, and differential shifts in phospholipids and PUFAs. Caveolar proteins are a particularly important target in DM, with evidence for caveolin-3 depletion and caveolae dysfunction in dysregulation of GLUT4 and CD36 function, survival kinase and eNOS signaling. Importantly, the sarcolemma is malleable, responsive to dietary modification, physical activity and other interventions. A further unraveling of the roles of sarcolemmal changes in DM and its cardiac complications thus has potential to inform approaches to managing these disorders, improving ischemic tolerance and developing cardioprotective therapies for the DM population. This requires further focused investigation of sarcolemmal changes in animal models and particularly in sufferers of T1 and T2DM, though the latter presents a significant experimental challenge.
Declarations
Authors' contributions
Drafted manuscript: JR, JPH. Critical analysis: EFD, JNP, HHP. Approval of final manuscript: JR, JPH, EFD, JNP, HHP. All authors read and approved the final manuscript.
Acknowledgements
Not applicable.
Competing interests
The authors declare that they have no competing interests.
Availability of data and materials
Not applicable.
Ethics approval and consent to participate
Not applicable.
Funding
JR was supported by a doctoral scholarship award from the Australian government.
Publisher's Note
Springer Nature remains neutral with regard to jurisdictional claims in published maps and institutional affiliations.
Open AccessThis article is distributed under the terms of the Creative Commons Attribution 4.0 International License (http://creativecommons.org/licenses/by/4.0/), which permits unrestricted use, distribution, and reproduction in any medium, provided you give appropriate credit to the original author(s) and the source, provide a link to the Creative Commons license, and indicate if changes were made. The Creative Commons Public Domain Dedication waiver (http://creativecommons.org/publicdomain/zero/1.0/) applies to the data made available in this article, unless otherwise stated.
Authors' Affiliations
(1)
Menzies Health Institute Queensland, Griffith University, Southport, Australia
(2)
VA San Diego Healthcare System and Department of Anesthesiology, University of California San Diego, San Diego, USA
(3)
School of Medical Science, Griffith University, Southport, Australia