Correction to: Metformin and sulodexide restore cardiac microvascular perfusion capacity in diet‑induced obese rats
Cardiovascular Diabetology volume 20, Article number: 53 (2021)
Following publication of the original article [1], the authors regret errors in Figs. 2b–d. In these figures the images of the representative Akt and phospho-Akt (pAkt) signals should be replaced with the appropriate images. The representative images shown here are correct. The changes do not affect the scientific conclusion and significance of the article.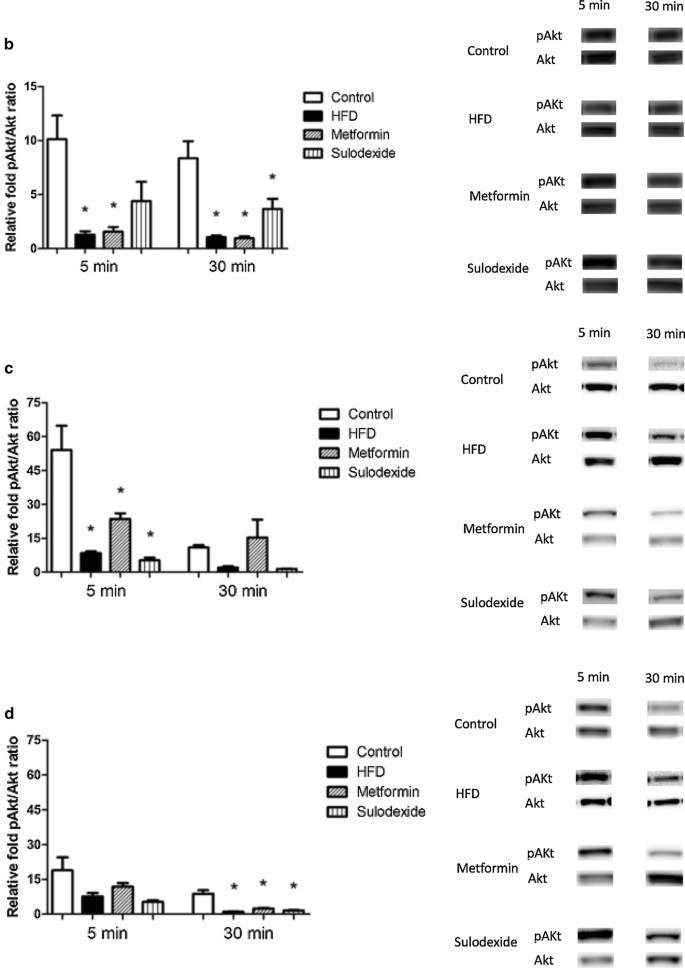 Reference
van Haare J, Kooi ME, van Teeffelen JWGE, Vink H, Slenter J, Cobelens H, Strijkers GJ, Koehn D, Post MJ, van Bilsen M. Metformin and sulodexide restore cardiac microvascular perfusion capacity in diet-induced obese rats. Cardiovasc Diabetol. 2017;16:47. https://doi.org/10.1186/s12933-017-0525-7.
Additional information
Publisher's Note
Springer Nature remains neutral with regard to jurisdictional claims in published maps and institutional affiliations.
Rights and permissions
Open Access This article is licensed under a Creative Commons Attribution 4.0 International License, which permits use, sharing, adaptation, distribution and reproduction in any medium or format, as long as you give appropriate credit to the original author(s) and the source, provide a link to the Creative Commons licence, and indicate if changes were made. The images or other third party material in this article are included in the article's Creative Commons licence, unless indicated otherwise in a credit line to the material. If material is not included in the article's Creative Commons licence and your intended use is not permitted by statutory regulation or exceeds the permitted use, you will need to obtain permission directly from the copyright holder. To view a copy of this licence, visit http://creativecommons.org/licenses/by/4.0/. The Creative Commons Public Domain Dedication waiver (http://creativecommons.org/publicdomain/zero/1.0/) applies to the data made available in this article, unless otherwise stated in a credit line to the data.
About this article
Cite this article
van Haare, J., Kooi, M.E., van Teeffelen, J.W.G.E. et al. Correction to: Metformin and sulodexide restore cardiac microvascular perfusion capacity in diet‑induced obese rats. Cardiovasc Diabetol 20, 53 (2021). https://doi.org/10.1186/s12933-021-01240-7
Received:

Accepted:

Published:

DOI: https://doi.org/10.1186/s12933-021-01240-7