Erratum to: Inflammation, glucose, and vascular cell damage: the role of the pentose phosphate pathway
Cardiovascular Diabetology
2017
16:25
Published: 16 February 2017
After publication of the original article [
1
], it became apparent that an error affecting Fig. 6 occurred during production. In the published article, Fig. 6a is missing the Western blot corresponding to G6PD.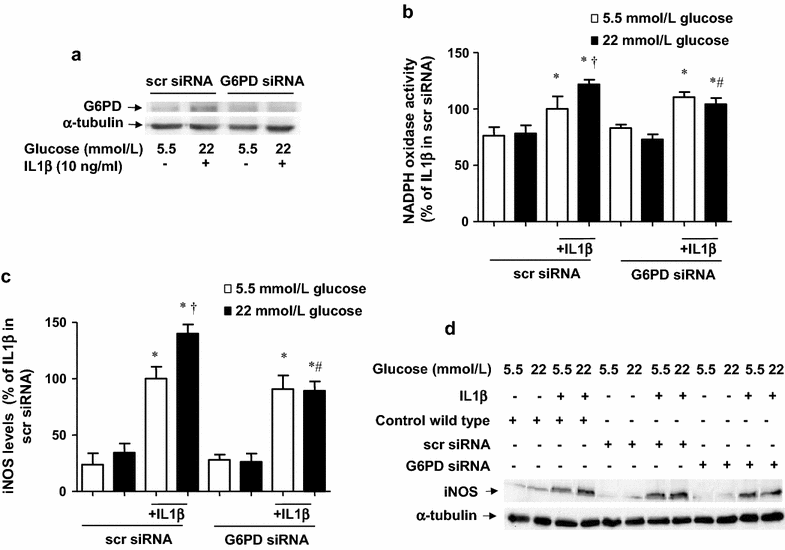 The correct version of the figure was submitted by the author, and the error occurred during the typesetting stage. The correct version (Fig. 6) of the figure is published in this erratum.
Open AccessThis article is distributed under the terms of the Creative Commons Attribution 4.0 International License (http://creativecommons.org/licenses/by/4.0/), which permits unrestricted use, distribution, and reproduction in any medium, provided you give appropriate credit to the original author(s) and the source, provide a link to the Creative Commons license, and indicate if changes were made. The Creative Commons Public Domain Dedication waiver (http://creativecommons.org/publicdomain/zero/1.0/) applies to the data made available in this article, unless otherwise stated.
(1)
Departamento de Farmacología, Facultad de Medicina, Universidad Autónoma de Madrid, 29029 Madrid, Spain
(2)
Instituto de Biología Funcional y Genómica, Universidad de Salamanca-CSIC, 37007 Salamanca, Spain
(3)
Wolfson Institute for Biomedical Research, University College London, London, WC1E 6BT, UK
(4)
Present address: Paul Langerhans-Group, Integrative Physiology, German Diabetes Center, Auf'm Hennekamp 65, 40225 Düsseldorf, Germany
(5)
Present address: Department of Pathology, University of Michigan, Ann Arbor, MI 48109, USA
(6)
Present address: Institute of Cancer Sciences, Manchester Cancer Research Centre, University of Manchester, Wilmslow Road, Manchester, M20 4QL, UK