Interplay between ultrastructural findings and atherothrombotic complications in type 2 diabetes mellitus
Cardiovascular Diabetology
2015
14:96
Received: 2 July 2015
Accepted: 19 July 2015
Published: 31 July 2015
Abstract
Accelerated atherosclerosis is the main underlying factor contributing to the high risk of atherothrombotic events in patients with diabetes mellitus and atherothrombotic complications are the main cause of mortality. Like with many bodily systems, pathology is observed when the normal processes are exaggerated or uncontrolled. This applies to the processes of coagulation and thrombosis as well. In diabetes, in fact, the balance between prothrombotic and fibrinolytic factors is impaired and thus the scale is tipped towards a prothrombotic and hypofibrinolytic milieu, which in association with the vascular changes accompanying plaque formation and ruptures, increases the prevalence of ischaemic events such as angina and myocardial infarction. Apart from traditional, modifiable risk factors for cardiovascular disease like hypertension, smoking, elevated cholesterol; rheological properties, endogenous fibrinolysis and impaired platelet activity are rapidly gaining significance in the pathogenesis of atherosclerosis especially in diabetic subjects. Blood clot formation represents the last step in the athero-thrombotic process, and the structure of the fibrin network has a role in determining predisposition to cardiovascular disease. It is no surprise that just like platelets and fibrin networks, erythrocytes have been shown to play a role in coagulation as well. This is in striking contrast to their traditional physiological role of oxygen transport. In fact, emerging evidence suggests that erythrocytes enhance functional coagulation properties and platelet aggregation. Among the spectrum of haematological abnormalities in diabetes, erythrocyte aggregation and decreased deformability of erythrocytes predominate. More importantly, they are implicated in the pathogenesis of microvascular complications of diabetes. The morphology of platelets, fibrin networks and erythrocytes are thus essential role players in unravelling the pathogenesis of cardiovascular complications in diabetic subjects.
Keywords
DiabetesMorphologyPlateletsFibrinErythrocytesAtherosclerosis
Background
The trend regarding the incidence of type 2 diabetes mellitus is that it is increasing in the general population because of increasing obesity and is likely to subsequently increase the incidence of coronary artery disease. It is also known that risk factors such as obesity, hypertension and hypercholesterolemia are crucial to the development of atherosclerosis which results in inflammation [1]. Fundamental to contributory factors of morbidity and mortality in diabetes is atherothrombotic complications [2]. Despite advances in antiplatelet therapies and control of modifiable risk factors; like hypertension, obesity, smoking and dyslipidaemia, the risk of ischaemic events remains high in patients with type 2 diabetes. There is thus a pressing need to understand the complexity of mechanisms contributing to atherothrombotic complications so that more effective therapies can be developed. Evidence shows that diabetes has been considered to be a prothrombotic status. Characteristic findings in type 2 diabetes includes: increased coagulation, impaired fibrinolysis, endothelial dysfunction and platelet hyper-reactivity [3].
All stages in the pathophysiology of plaque formation with atherosclerosis are widespread and accelerated in type 2 diabetes. This is attributed to the imbalance in endothelial damage and repair mechanisms that are usually exhausted. The plaque is made up of erythrocytes, fibrin fibres and platelets [
1
]. Plaques are more susceptible to rupture and commonly referred to as "vulnerable plaque" syndrome. In particular, hyperglycaemia causing platelet activation, the increase in fibrinogen and hypofibrinolysis related to insulin resistance, all play a significant role in the development of angiopathy [
4
]. One research method that is used to study platelet structure and activation, is electron microscopy. This review defines ultrastructural findings in diabetic platelets, fibrin network and erythrocytes that can contribute to accelerated atherosclerosis. The outline of the review is highlighted in Fig.
1
. The next paragraphs focus on structure and function of platelets, fibrin networks and erythrocytes in relation to type 2 diabetes.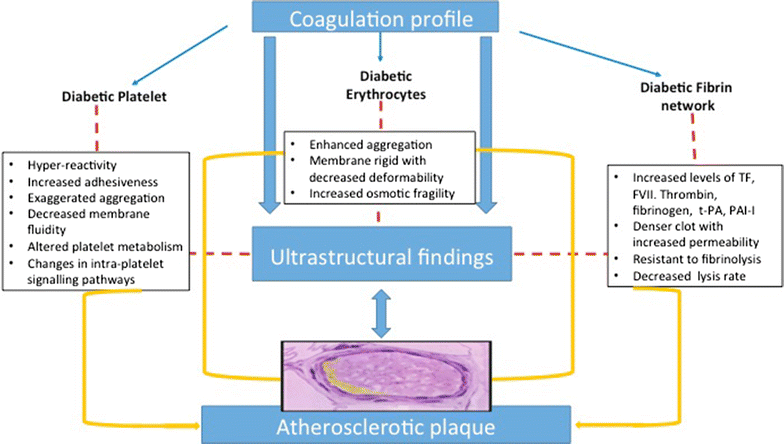 Conclusion
Platelet dysfunction poses an increased risk for thrombotic vascular events. The significance of platelet abnormalities in the atherothrombotic process has been highlighted by the use of antiplatelet drugs that form part of the therapeutic regime in reducing cardiovascular risk [2]. The multifactorial aetiologies for platelet dysfunction is beyond the scope of this review, however, diabetes and the associated hyperglycaemia cannot be ignored. Hyperglycaemia induces a hypercoagulable condition and contributes to micro- and macrovascular disease. Studies have shown that optimal control of both fasting and post-prandial glucose levels will reduce the impact. It remains to see if the latter will improve morphological findings of the platelet ultrastructure in diabetic subjects. Suppression of fibrinolysis and increased fibrinogen are among the group of haemostatic abnormalities in type 2 diabetes. Increased fibrinogen adds to the burden of cardiovascular risk by increasing blood viscosity, increasing the size of the clot, tissue deposition is increased and stimulation of atherosclerosis and vascular thickening. Erythrocytes too contribute to the high incidence of atherosclerotic diseases in diabetes partly due to the association of abnormalities of erythrocyte composition and rheological function with increased oxidative stress.
The combination of blebbed platelets, abnormal fibrin in the form of dense matted deposits and changed erythrocytes morphology creates a thrombotic risk cluster which underpins the development of cardiovascular disease. Analysis of ultrastructural findings in diabetic platelets, fibrin network and erythrocytes can reveal significant findings which may add to a better understanding of the pathogenesis of atherosclerosis and thrombosis.
Declarations
Authors' contributions
PS: wrote manuscript; EP: research group leader, editing of paper. All authors read and approved the final manuscript.
Compliance with ethical guidelines
Competing interests The authors declare that they have no competing interests.
Financial support This work is based on the research supported in part by the National Research Foundation of South Africa (UNIQUE GRANT NO: 92709) and the MRC: E Pretorius (fund number A0X331).
Ethical clearance Ethical clearance was obtained for blood sample collection from diabetes type II and healthy individuals, from the Human Ethics Committee of the University of Pretoria. Informed consent forms were filled in by all participants.
Open AccessThis article is distributed under the terms of the Creative Commons Attribution 4.0 International License (http://creativecommons.org/licenses/by/4.0/), which permits unrestricted use, distribution, and reproduction in any medium, provided you give appropriate credit to the original author(s) and the source, provide a link to the Creative Commons license, and indicate if changes were made. The Creative Commons Public Domain Dedication waiver (http://creativecommons.org/publicdomain/zero/1.0/) applies to the data made available in this article, unless otherwise stated.
Authors' Affiliations
(1)
Department of Physiology, Faculty of Health Sciences, University of Pretoria, Pretoria, South Africa
Copyright
© Soma and Pretorius. 2015