Residual macrovascular risk in 2013: what have we learned?
Jean-Charles Fruchart

1, 2

Email author

,

Jean Davignon

3,

Michel P Hermans

4,

Khalid Al-Rubeaan

5,

Pierre Amarenco

6,

Gerd Assmann

7,

Philip Barter

8,

John Betteridge

9,

Eric Bruckert

10,

Ada Cuevas

11,

Michel Farnier

12,

Ele Ferrannini

13,

Paola Fioretto

14,

Jacques Genest

15,

Henry N Ginsberg

16,
Antonio M Gotto

Jr

17,

Dayi Hu

18,

Takashi Kadowaki

19,

Tatsuhiko Kodama

20,

Michel Krempf

21,

Yuji Matsuzawa

22,

Jesús Millán Núñez-Cortés

23,

Carlos Calvo Monfil

24,

Hisao Ogawa

25,

Jorge Plutzky

26,

Daniel J Rader

27,

Shaukat Sadikot

28,

Raul D Santos

29,

Evgeny Shlyakhto

30,

Piyamitr Sritara

31,

Rody Sy

32,

Alan Tall

33,

Chee Eng Tan

34,

Lale Tokgözoğlu

35,

Peter P Toth

36,

Paul Valensi

37,

Christoph Wanner

38,

Alberto Zambon

14,

Junren Zhu

39,

Paul Zimmet

40 and

for the Residual Risk Reduction Initiative (R3i)
Cardiovascular Diabetology
2014
13:26
Received: 7 November 2013
Accepted: 7 December 2013
Published: 24 January 2014
Abstract
Cardiovascular disease poses a major challenge for the 21st century, exacerbated by the pandemics of obesity, metabolic syndrome and type 2 diabetes. While best standards of care, including high-dose statins, can ameliorate the risk of vascular complications, patients remain at high risk of cardiovascular events. The Residual Risk Reduction Initiative (R3i) has previously highlighted atherogenic dyslipidaemia, defined as the imbalance between proatherogenic triglyceride-rich apolipoprotein B-containing-lipoproteins and antiatherogenic apolipoprotein A-I-lipoproteins (as in high-density lipoprotein, HDL), as an important modifiable contributor to lipid-related residual cardiovascular risk, especially in insulin-resistant conditions. As part of its mission to improve awareness and clinical management of atherogenic dyslipidaemia, the R3i has identified three key priorities for action: i) to improve recognition of atherogenic dyslipidaemia in patients at high cardiometabolic risk with or without diabetes; ii) to improve implementation and adherence to guideline-based therapies; and iii) to improve therapeutic strategies for managing atherogenic dyslipidaemia. The R3i believes that monitoring of non-HDL cholesterol provides a simple, practical tool for treatment decisions regarding the management of lipid-related residual cardiovascular risk. Addition of a fibrate, niacin (North and South America), omega-3 fatty acids or ezetimibe are all options for combination with a statin to further reduce non-HDL cholesterol, although lacking in hard evidence for cardiovascular outcome benefits. Several emerging treatments may offer promise. These include the next generation peroxisome proliferator-activated receptorα agonists, cholesteryl ester transfer protein inhibitors and monoclonal antibody therapy targeting proprotein convertase subtilisin/kexin type 9. However, long-term outcomes and safety data are clearly needed. In conclusion, the R3i believes that ongoing trials with these novel treatments may help to define the optimal management of atherogenic dyslipidaemia to reduce the clinical and socioeconomic burden of residual cardiovascular risk.
Keywords
Residual cardiovascular riskAtherogenic dyslipidaemiaType 2 diabetesTherapeutic options
Introduction
Cardiovascular disease (CVD) remains the leading cause of death and a major cause of disability affecting quality of life [1, 2]. Despite best evidence-based strategies, including high-dose statin therapy, it is clear that there persists an unacceptably high residual risk of CV events. According to the Residual Risk Reduction Initiative (R3i), residual CV risk is defined as the risk of CV events that persists in people despite achievement of treatment goals for low-density lipoprotein (LDL) cholesterol, blood pressure, and glycaemia according to current standards of care.
This clinical challenge is exacerbated by the pandemics of obesity, metabolic syndrome and type 2 diabetes. Diabetes prevalence is increasing in almost every country; globally, it is estimated that diabetes affects over 371 million people and costs US$471 billion [
3
]. However, the burden of diabetes is likely to be even greater in emerging economies in Asia, Africa and the Middle East. The reasons for this are multifactorial and include transition to an increasingly urbanised, sedentary society resulting in increasing obesity across the socioeconomic spectrum, as well as early life influences, such as maternal nutrition and newborn overfeeding, which are associated with epigenetic changes that increase the risk of obesity, diabetes and CVD in later life [
4
]. Thus, individuals in these regions have increased susceptibility to cardiometabolic abnormalities at lower absolute levels of adiposity. Indeed, this scenario is illustrated by the INTERHEART study, a global case–control study which highlighted the relevance of both atherogenic apolipoprotein (apo) B100-containing lipoproteins and potentially atheroprotective apoA-I containing lipoproteins, such as high-density lipoproteins (HDL), to coronary risk. The population-attributable coronary risk due to dyslipidaemia (defined as the ratio apoB/apoA-I) was almost double in some of these emerging economic regions compared with the European Union region (Figure
1
) [
5
]. In Latin America, abdominal obesity, dyslipidaemia and smoking collectively accounted for 88% of the population-attributable coronary risk [
6
].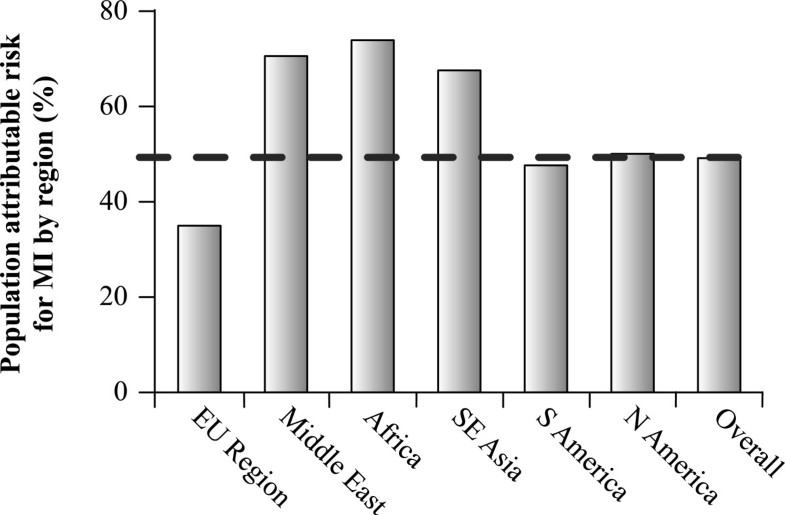 The Residual Risk Reduction Initiative (R3i) believes that residual vascular risk represents a paramount public health challenge in the 21st century [7]. Thus, the mission of this worldwide, academic initiative is to raise awareness of the numerous factors influencing residual vascular risk, with a focus on lipoprotein-related risk factors, and to improve strategies for its therapeutic management. Five years ago, the R3i identified atherogenic dyslipidaemia, defined as the imbalance between proatherogenic apoB-containing lipoproteins (contained in triglyceride-rich lipoproteins, TRLs) and antiatherogenic apo A-I-lipoproteins (contained in HDL), as a key contributor to residual CV risk [7]. This was supported by extensive evidence that both elevated triglycerides and low HDL cholesterol were predictive for CVD, independent of LDL cholesterol concentration. Subsequent guidelines and expert consensus have recognised the importance of atherogenic dyslipidaemia as a key driver of CV risk in insulin-resistant states, even if LDL cholesterol levels are well controlled [8–12]. Thus, targeting atherogenic dyslipidaemia secondary to LDL cholesterol reduction has the potential for reducing this risk. Five years on, the key question must be: Are we closer to defining the optimal therapeutic strategy for reducing lipid-related residual CV risk?
Authors' information
The Residual Risk Reduction Initiative (http://www.r3i.org) is an international, academic, multidisciplinary non-profit organization which is focused on addressing the high residual risk of macrovascular and microvascular complications in patients with atherogenic dyslipidaemia.
G Assmann is also chairman of the Assmann Foundation for Prevention.
Abbreviations
ACC/AHA:

American College of Cardiology/American Heart Association
ACS:

Acute coronary syndrome
Apo:

Apolipoprotein
CETP:

Cholesteryl ester transfer protein
CHD:

Coronary heart disease
CI:

Confidence interval
CV:

Cardiovascular
CVD:

Cardiovascular disease
EAS:

European Atherosclerosis Society
EPA:

Eicosapentaenoic acid
ER:

Extended-release
HDL:

High-density lipoprotein
IAS:

International Atherosclerosis Society
LDL:

Low-density lipoprotein
MI:

Myocardial infarction
PCSK9:

Proprotein convertase subtilisin/kexin type 9
PPAR:

Peroxisome proliferator-activated receptor
R3i:

Residual Risk Reduction Initiative
SPPARM:

Selective peroxisome proliferator-activated receptor modulator
TRL:

Triglyceride-rich lipoprotein
VLDL:

Very low-density lipoprotein
ACCELERATE:

A study of evacetrapib in high-risk vascular disease
ACCORD:

Action to Control Cardiovascular Risk in Diabetes
AIM-HIGH:

Atherothrombosis Intervention in Metabolic Syndrome with low HDL/high triglycerides: Impact on Global Health Outcomes
AleCardio:

Aleglitazar in patients with a recent acute coronary syndrome and type 2 diabetes mellitus
ASSURE:

ApoA-I Synthesis Stimulation and Intravascular Ultrasound for Coronary Atheroma Regression Evaluation
DYSIS:

Dyslipidemia International Study
ENHANCE:

Ezetimibe and Simvastatin in Hypercholesterolemia Enhances Atherosclerosis Regression
FIELD:

Fenofibrate Intervention and Event Lowering in Diabetes
HPS2-THRIVE:

Heart Protection Study 2-Treatment of HDL to Reduce the Incidence of Vascular Events
ILLUMINATE:

Investigation of Lipid Level Management to Understand its Impact in Atherosclerotic Events
IMPROVE-IT:

IMProved Reduction of Outcomes: Vytorin Efficacy International Trial
JELIS:

Japan Eicosapentaenoic acid Lipid Intervention Study
ORIGIN:

Outcome Reduction with an Initial Glargine Intervention
POSCH:

Program on the Surgical Control of the Hyperlipidemia
PROCAM:

Prospective Cardiovascular Münster Study
REVEAL:

Randomized Evaluation of the Effects of Anacetrapib through Lipid-modification
4S:

Scandinavian Simvastatin Survival Study
SEAS:

Simvastatin and Ezetimibe in Aortic Stenosis
SHARP:

Study of Heart and Renal Protection.
Declarations
Acknowledgements
There are no sources of funding for this paper.
Authors' Affiliations
(1)
R3i Foundation, Basel, Switzerland
(2)
Fondation Cœur et Artères, Lille, France
(3)
Institut de recherches cliniques de Montréal; Centre Hospitalier de l'Université de Montréal and Department of Experimental Medicine, McGill University, Montreal, Canada
(4)
Cliniques Universitaires Saint-Luc, Brussels, Belgium
(5)
University Diabetes Center, King Saud University, Riyadh, Saudi Arabia
(6)
Department of Neurology and Stroke Centre, Bichat University Hospital, Paris, France
(7)
Assmann-Stiftung für Prävention, Münster, Germany
(8)
Centre for Vascular Research, University of New South Wales, Sydney, Australia
(9)
University College London, London, UK
(10)
Department of Endocrinology and Cardiovascular Disease Prevention, Institut of CardioMetabolism and Nutrition (ICAN) Hôpital Pitié-Salpêtrière, Paris, France
(11)
Nutrition Center, Clínica Las Condes, Santiago, Chile
(12)
Point Medical, Dijon, France
(13)
University of Pisa School of Medicine, and Metabolism Unit of the National Research Council (CNR) Institute of Clinical Physiology, Pisa, Italy
(14)
Department of Medical and Surgical Sciences, University of Padova, Padova, Italy
(15)
McGill University and Center for Innovative Medicine, McGill University Health Center/Royal Victoria Hospital, Montreal, Canada
(16)
Department of Medicine and Irving Institute for Clinical and Translational Research, Columbia University, New York, USA
(17)
Weill Cornell Medical College, Cornell University, New York, USA
(18)
Heart Institute, People Hospital of Peking University, Beijing, China
(19)
Department of Diabetes and Metabolic Diseases Unit, The University of Tokyo, Tokyo, Japan
(20)
Department of Systems Biology and Medicine, The University of Tokyo, Tokyo, Japan
(21)
Human Nutritional Research Center and Department of Endocrinology, Metabolic Diseases and Nutrition, University Hospital Nantes, Nantes, France
(22)
Sumitomo Hospital and Osaka University, Osaka, Japan
(23)
University Hospital Gregorio Marañón, Universidad Complutense, Madrid, Spain
(24)
University of Concepción, Concepción, Chile
(25)
Department of Cardiovascular Medicine, Kumamoto University, Kumamoto, Japan
(26)
Brigham and Women's Hospital and Harvard Medical School, Boston, USA
(27)
Division of Translational Medicine and Human Genetics, Smilow Center for Translational Research, Penn Cardiovascular Institute, Philadelphia, USA
(28)
Jaslok Hospital and Research Center, Mumbai, India
(29)
Unidade Clínica de Lipides InCor-HCFMUSP, Sao Paulo, Brazil
(30)
Federal Almazov Heart Blood Endocrinology Centre, St Petersburg, Russia
(31)
Mahidol University, Bangkok, Thailand
(32)
University of the Philippines-Philippine General Hospital, Manila, The Philippines
(33)
Specialized Center of Research (SCOR) in Molecular Medicine and Atherosclerosis, Columbia University, College of Physicians & Surgeons, New York, USA
(34)
Gleneagles Medical Centre, Singapore
(35)
Hacettepe University, Ankara, Turkey
(36)
Sterling Rock Falls Clinic, CGH Medical Center, Sterling and University of Illinois School of Medicine, Peoria, USA
(37)
Hôpital Jean Verdier, Department of Endocrinology Diabetology Nutrition, AP-HP, Paris-Nord University, CRNH-IdF, CINFO, Bondy, France
(38)
University Hospital Würzburg, Würzburg, Germany
(39)
Zhongshan Hospital, Fudan University, Shanghai, China
(40)
Baker IDI Heart and Diabetes Institute, Melbourne, Australia
Copyright
© Fruchart et al.; licensee BioMed Central Ltd. 2014
This article is published under license to BioMed Central Ltd. This is an Open Access article distributed under the terms of the Creative Commons Attribution License (http://creativecommons.org/licenses/by/2.0), which permits unrestricted use, distribution, and reproduction in any medium, provided the original work is properly cited. The Creative Commons Public Domain Dedication waiver (http://creativecommons.org/publicdomain/zero/1.0/) applies to the data made available in this article, unless otherwise stated.