Optimising cardioprotection during myocardial ischaemia: targeting potential intracellular pathways with glucagon-like peptide-1
Cardiovascular Diabetology
2014
13:12
Received: 4 November 2013
Accepted: 4 January 2014
Published: 11 January 2014
Abstract
Coronary heart disease and type-2 diabetes are both major global health burdens associated with an increased risk of myocardial infarction (MI). Following MI, ischaemia-reperfusion injury (IRI) remains a significant contributor to myocardial injury at the cellular level. Research has focussed on identifying a strategy or intervention to minimise IRI to optimise reperfusion therapy, with the aim of delivering a superior clinical outcome. The incretin hormone glucagon-like peptide-1, already an established basis for the treatment of type-2 diabetes, also has the potential to protect against IRI. We explain the physiology and cellular processes involved in IRI, and the intracellular pathways activated by GLP-1, which could intercept IRI and deliver cardioprotection. The review also examines the current preclinical and clinical evidence for GLP-1 in cardioprotection and future directions for research as we look for an effective adjunctive treatment to minimise IRI.
Keywords
GLP-1
Glucagon-like peptide-1
Incretin
Ischaemia
Ischaemia-reperfusion
Cardioprotection
Myocardial metabolism
Diabetes
Percutaneous coronary intervention
Myocardial infarction
Background
Coronary heart disease is the leading global cause of death in the developed world, with myocardial infarction (MI) being associated with significant morbidity and mortality. Type-2 diabetes is another major global health burden, with prevalence continuing to increase. Compared with the general population, patients with type-2 diabetes have a significantly increased risk of MI as well as a higher risk of mortality or developing heart failure within 30 days after an event [1, 2].
Myocardial injury following MI can be either lethal or sub-lethal, depending on the duration and severity of ischaemia endured. Sub-lethal ischaemia is often associated with reversible contractile dysfunction, although this may be prolonged due to stunning and hibernation. Stunning is transient, while hibernation is a more prolonged reduction in myocardial performance following ischaemia-reperfusion. The success of timely primary percutaneous coronary intervention (PCI) in those presenting with an acute MI has seen mortality rates fall to 6% [
3
], as the length of ischaemia is directly related to the final extent of infarction. The process of reperfusion itself also contributes, rapidly changing the intracellular physiological environment including activation of pathways that may induce lethal myocardial injury. Such ischaemia-reperfusion injury (IRI), with resultant apoptosis, necrosis and post-ischaemic dysfunction remains a key determinant of the final extent of infarction, degree of myocardial salvage and the overall associated morbidity and mortality of MI (illustrated in Figure
1
a) [
4
,
5
].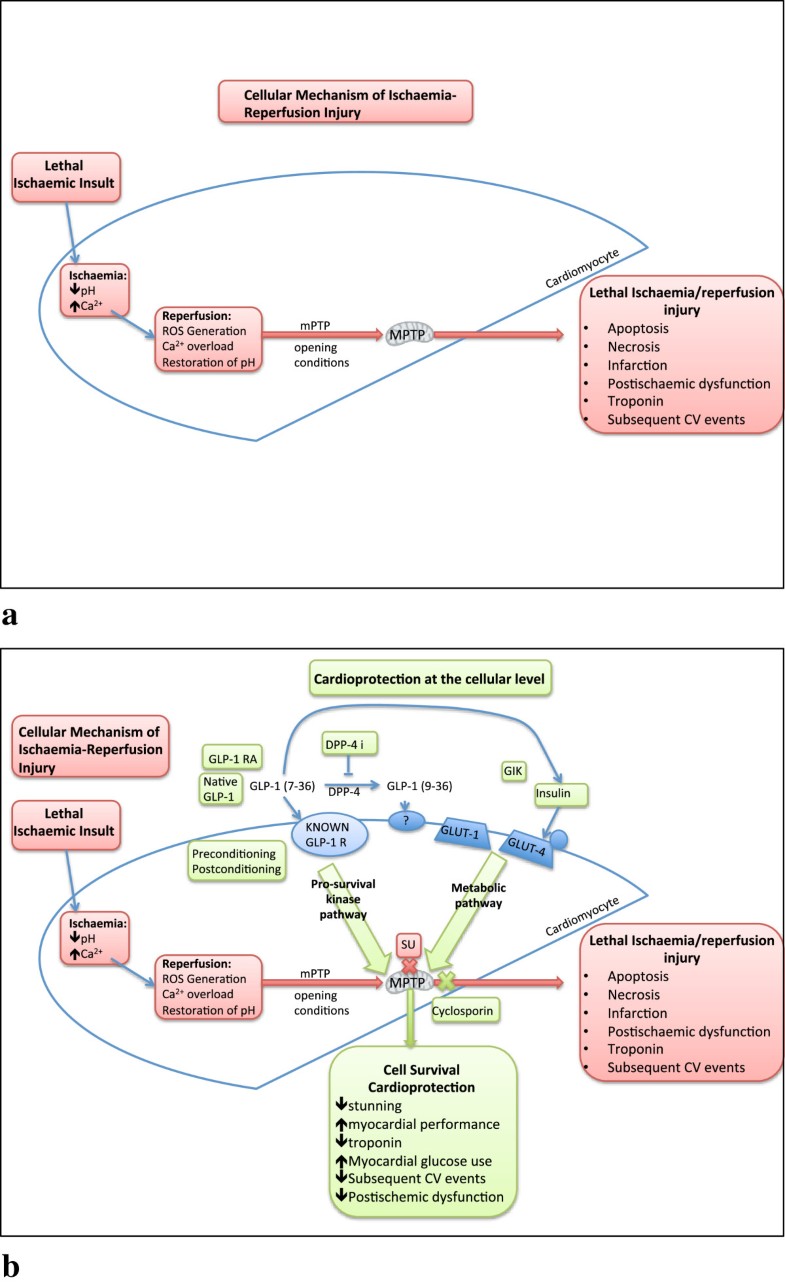 There has been considerable interest recently in whether the IRI pathway offers a potential target to protect the myocardium beyond what can be achieved by the physical means of PCI (including thrombectomy). Important therapeutic targets include promoting myocyte glucose metabolism to enable relatively more ATP generation when oxygen supply is constrained, and activation of pro-survival kinase pathways to protect the mitochondria. Pro-survival kinase pathways are known to be activated by ischaemic conditioning; a mechanical intervention employing a series of brief, sub-lethal periods of ischaemia to protect the heart against a subsequent lethal ischaemic insult [6]. Pre-, per- and post-conditioning are performed before, during or after reperfusion respectively. The incretin hormone glucagon-like peptide-1 (GLP-1) stimulates glucose-dependent insulin release, and may also modulate the cellular processes and conditioning pathways during ischaemia-reperfusion, possibly providing cardioprotection. In this review, the evidence supporting the beneficial effects of GLP-1 on myocardial function during ischaemia-reperfusion will be discussed in the context of recent preclinical and clinical data.
Conclusions
The advent of primary PCI has significantly improved outcome following MI, but there is still the potential to improve myocyte salvage and mitigate IRI to further improve clinical outcome. Increased understanding of the cellular processes underlying myocardial injury, and characterisation of intracellular signalling cascades associated with myocyte loss, has identified new potential therapies to beneficially target IRI.
Preclinical studies have shown GLP-1 has the potential to reduce IRI and improve functional parameters of recovery following significant myocardial ischaemia. Early human work supports this, although the location of the GLP-1 receptor and the precise mechanism of protection afforded by GLP-1 is not yet understood.
As GLP-1 based therapies are increasingly prescribed to patients with type-2 diabetes, many of whom also have significant coronary artery disease, it will be important to continue careful surveillance to assess whether these patients are provided some degree of protection should they experience an ischaemic cardiac event. Further studies will help define whether GLP-1 is able to enhance cardiac outcome during an acute coronary syndrome, and add to understanding of the mode of action underlying any benefit.
Limitations
This work was not performed in accordance to the PRISMA guidelines for reporting systematic reviews [98].
Abbreviations
ACS:

Acute coronary syndrome
DPP-4:

Dipeptidyl-peptidase 4
DSE:

Dobutamine stress echocardiography
ePAC2:

Exchange protein activated by cAMP-2
FFA:

Free fatty acid
GIK:

Glucose-insulin-potassium
GLP-1:

Glucagon-like peptide-1
GLUT4:

Insulin sensitive glucose transporter 4
GSK 3β:

Glycogen synthase kinase 3 beta
IRI:

Ischaemia reperfusion injury
KATP:

ATP-sensitive potassium channel
LV:

Left ventricle
MI:

Myocardial Infarction
mPTP:

Mitochondrial permeability transition pore
NEP:

Neutral endopeptidase
p38MAPK:

p38 mitogen-activated kinase
PCI:

Percutaneous coronary intervention
PI3K:

Phosphatidyl inositol 3 kinase
PKC:

Protein kinase C
RISK:

Reperfusion injury survival kinase
SAFE:

Survival activating factor enhancement.
Authors' Affiliations
(1)
Department of Cardiovascular Medicine, University of Cambridge, Addenbrooke's Hospital, Cambridge, UK
Copyright
© Clarke et al.; licensee BioMed Central Ltd. 2014
This article is published under license to BioMed Central Ltd. This is an Open Access article distributed under the terms of the Creative Commons Attribution License (http://creativecommons.org/licenses/by/2.0), which permits unrestricted use, distribution, and reproduction in any medium, provided the original work is properly cited. The Creative Commons Public Domain Dedication waiver (http://creativecommons.org/publicdomain/zero/1.0/) applies to the data made available in this article, unless otherwise stated.